About Us
My name is John A. Cap. I was born and raised in rural, northwest Pennsylvania. I was baptized as an infant in the Orthodox Church and have attended SS. Peter & Paul Orthodox Church, in Crossingville/Edinboro all my life. I met Jane in 1995, and we were married in 1997.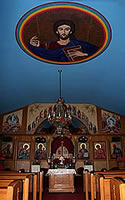 SS. Peter & Paul Orthodox Church Crossingville, PA
As Christmas approached in 1998, Jane and I discussed placing a large icon of The Nativity outdoors instead of the traditional Christmas scenes and secular displays that people normally have. However, when we looked into it at the time, the technology was not available.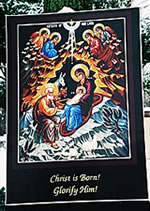 During the summer of 2004, Matushka Helene mentioned that it would be nice to have an icon of The Theotokos that would withstand the weather for the prayer garden at our church. We found that the technology had vastly improved since 1998. We printed the Icon of the Theotokos, which was blessed on the Feast of the Dormition, 2004. My first proto-type icon turned out great and with the unprotected southern exposure, it has not deteriorated at this time, mid-November '07 (3 yrs-3 mo). Later that fall, we decided to print a large icon of The Nativity of Our Lord and Savior Jesus Christ for an outdoor Christmas display. It turned out very well. So well, that with the responses we received from friends and family, we decided that "Outdoor Icons" should and can be made available to all.