Why Buy From Us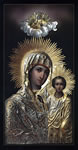 We offer two products; icons and signs (where icons can be placed within the sign).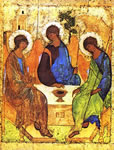 We believe that there are two traits of our product that distinguish it from anything else that is available. The first being its uniqueness in that no one has applied this technology to iconography; and the second trait is versatility. The aluminum the images are printed on can be cut to any shape or size with a pair of aviation snips that you buy at the local hardware store. Versatility of these icons is also exhibited in how and where you display the icons outdoors. Mounting methods and materials can only be limited by your imagination and what you have available. Materials include outdoor grade adhesives, commercial Velcro, s-hooks and chains, screws, tacks, finishing nails. We have even heard of people using a nail to make small holes in the border and then using push pins! Someone else said they shaped a tomato cage around the icon and moved it around the yard to different locations.
And above all, the reason to buy these icons is also why we're doing them; for the Glory of God.